Friday, October 30, 2009
Soooo we're a bit late today but tomorrow is Halloween and we spent the evening carving pumpkins :) I'm going to give you a teeny sneak peek at L's super Halloween costume that his daddy has been working his butt off on! And then the chronicles of our pumpkins...yes...we went there...for those of you who are fellow geeks and gamers...we carved a D20 pumpkin, which I jokingly suggested to the hubby that we use as an actual dice for sunday's DnD session...Well here's your sneak peek at Halloween!
Can you guess L's Halloween costume?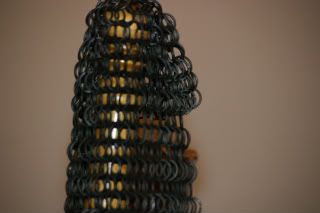 Pumpkin Carving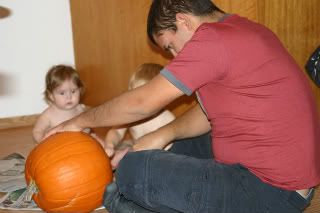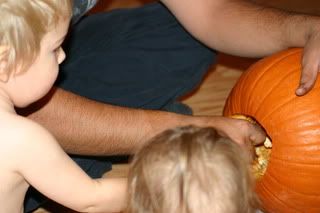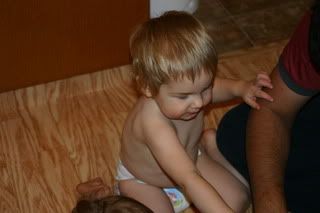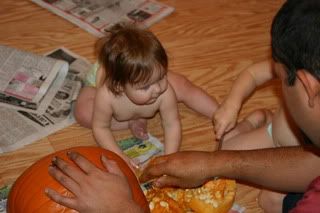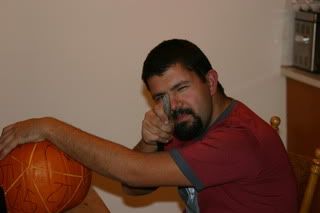 The d20
The inspiration for pumpkin #2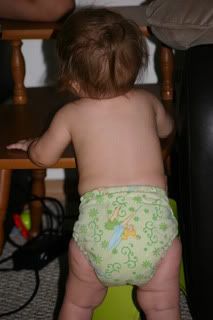 The Tink pumpkin
A and L cute shots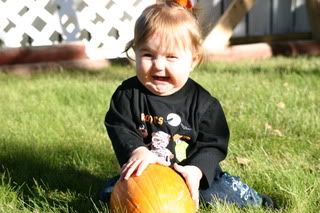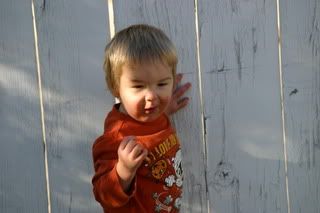 and now I'm off to sleep...mmm sleeeep!
Posted by

Rosina Fortier
at 10:14 PM
No comments:

Wednesday, October 28, 2009
**Warning** This post contains poop related content...so if you don't think you want to hear about baby poop then don't read this post :)**

So we have a tradition in our household, first thing in the morning little A gets to roam diaper free. She loves to be naked and this way she gets to air out after night time. Well this morning as usual she was roaming around the living room diaper free, I don't worry if we get a little bit of pee on the floor because we clean our floors on a regular basis, and she was having a grand time, giggling and babbling as she went on her many adventures...and then I realized that there was poop, so obviously I check on L first because well he's the usual suspect for early morning poops. Surprise it wasn't him, (we really need to start PLing soon). So I look over and here's little A sitting there with the hugest grin on her face and poop smeared everywhere! Not only had she pooped on the floor but she decided it was to be a great game and play in it too. Oh the joys of babies! It's all cleaned up and she's had a bath, which L insisted he needed one too...the joys of toddlers...So both kids bathed, and roaming free...maybe I shouldn't make this mistake again! Off to go find them clothes and diapers!
Posted by

Rosina Fortier
at 8:21 AM
1 comment:

Tuesday, October 20, 2009
I get asked this question so many times...My answer is very dependant on the person who asked the question as it leads to more questions or comments from eeewwww that's disgusting! to Isn't that alot of extra work? But I will share my reasons for cloth diapering with you.
Why Do I cloth diaper my children?
Well first and foremost I guess its the cost factor, we are on a very tight budget, and using cloth diapers with two children in diapers definately saves us around $200 a month not having to buy boxes of disposable diapers and wipes because we went through alot of diapers and we were buying boxes every two weeks at least. Don't get me wrong, cloth diapers have a significant start up cost, but for us in the long run they were the cheaper alternative.
It's also the green factor! I can reuse cloth diapers over and over again, and use them for more then one child, plus they aren't filling up the landfill. And with cloth diapers I know that there aren't a bunch of weird chemicals against their skin.
The Cuteness factor- cloth diapers are cute! not only are the cloth diaper bums super cute, but the diapers themselves are adorable. I have diapers that match outfits, diapers just because they are cute, A has a Tinkerbell diaper just because I love Tink and L has a pirate diaper and darn that one is adorable!
What about Convenience? Isn't it a pain to cloth diaper when you go out? What about ALL that extra laundry?
A lot of people think that cloth is more inconvenient because you need to wash and dry diapers all the time. In a household with two children in diapers, we only need to wash diapers every other day, that's one extra load of laundry added to the laundry we are already doing. And besides if you run out of diapers you just throw them in the washer. You don't have to worry about running out to the store to buy more when you suddenly run low. (and believe me in the middle of winter with 3 feet of snow on the ground and a blizzard outside you can be VERY grateful that all you need to do is throw a load of laundry in!) Cloth is also just as convenient for going out of the house as well. With products available like travel sized wet bags and bio-degradable diaper liners, cleaning up a diaper in public is a breeze!
Little A in a Goodmama Dipe!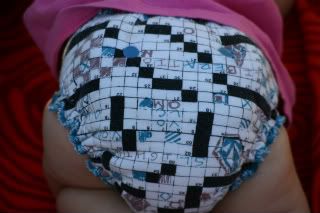 Posted by

Rosina Fortier
at 2:14 PM
1 comment:

I decided to create this blog to share the many adventures we have in Lemurland with our two wonderful beautiful munchkins (L & A our little Lemur and our little Koala Bear). L just turned 2 in August and A is 8 months old. They are 18 and a half months apart. Parenting 2 under the age of two is not easy! Every day is a new adventure, from crayon pictures all over your floor to a screaming teething baby, you name it we've experienced it. We are very much attachment parenting oriented and a as green as we can get on a limited budget family. So we find that people come to us with questions like why do we cloth diaper? how do you do it? How the heck do you find time for everything? and it is my hope that I can share some tips and advice and answer those questions.

A little about us....

Well where to start... I'm a crunchy slightly backwards eccentric work at home mommy of two munchkins who are 18 and a half months apart. I have my own small home business that I started with a dear friend of mine. We sew, crochet etc a vast variety of products such as cloth diapers, wool shorties, longies, skirties, nursing covers, receiving blankets and beyond. I'm kind of a craft addict! I also spin and weave as well! I'm a Birth Doula in training, and I'm working hard to complete my certification. I'm married to a wonderful man who I consider to be my best friend and he's such an amazing, loving, caring, slightly annoying, pain in the butt, overly geeky, awesome daddy! Our two munchkins are our greatest joy and our greatest trial. L is very much a little monkey, from the moment he was born he has been the most difficult child, from not sleeping to colic, to breastfeeding issues, to the most terrible of terrible two's each day has posed new challenges. A is a little angel, she's our miracle who we weren't expecting, and such a dream compared to her brother. She loves to cling and snuggle in the wrap or sling, so she's our little koala bear. I love both of them equally, I'm not sure that I can even express in words how I feel about my children. They are so amazing and I'm blessed that I get to see them grow into wonderful individuals.
Posted by

Rosina Fortier
at 1:24 PM
No comments: